Tutoring and Test Preparation
We pride ourselves on forty years of experience helping students excel in their classroom studies as well as on national tests.
We instruct students in critical thinking.

We jump-start students' successful transition to prep school or college.

We guide students to reach their goal of admission to the school of their  first choice.
We offer a full range of academic subjects, from basic math and English to calculus, physics, history, and foreign languages. See details about our tutoring programs and tutoring rates.
We prepare students for national standardized tests, including the: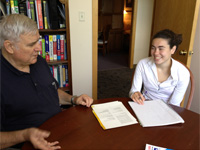 SSAT
Catholic school admissions tests
SAT I and II
ACT
TOEFL
Read more about our test preparation classes and rates.
Our tutors use their real-world expertise to prepare students to pass graduate school entrance exams, including:
Learn more about our tutoring for graduate admission test preparation.
WE ALSO OFFER:
Curriculum development and specialized instruction for home school students;
Instruction in English as a Second Language (ESL);
Workshops and tutorials for personal enrichment;
Advice for students and parents on the prep school and college application process;
Help for students who want to craft compelling personal essays for admission to prep school, college, and graduate school;
Workbooks for self-study of English vocabulary, English grammar, and reading comprehension.
"Just a note to let you know Billy got accepted at Phillips [Andover]. … If it were not for your help, Billy might not have gotten in. Thank you so very much."
– The S. Family
---