OUR CREDO: A solid academic foundation not only improves test scores – it lays the groundwork for future educational success.
We tutor for the following tests:
SSAT
Catholic schools admission tests (Catholic High School Entrance Exam and the HSPT)
SAT I and II (all subject areas)
ACT
GRE (General Test and most subject areas)
GMAT (Graduate Management Admission Test)
MCAT (Medical College Admission Test)
LSAT (Law School Admission Test)
TOEFL (Test of English as a Foreign Language)
Other tests by request
Our tutors have more than four decades of experience preparing students for national standardized tests. We work hard to help each student realize his or her greatest potential. Many of our students have gained admission to top private preparatory and Catholic schools, Ivy League schools, and other top colleges and universities.
Our success is based on evaluating and addressing the gaps in each student's knowledge of math,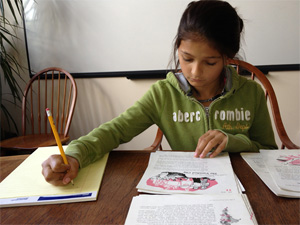 English, and other academic subjects, while building on his or her strengths. We strongly believe that test-taking tips and tricks will not raise test scores significantly if a student does not have a solid understanding of the subject.
We engage students in a deliberate course of study, helping them master the fundamentals and then challenging them to apply those principles to a broad range of sample problems. They can then attack the test with confidence, trusting their well-honed reasoning skills, instead of gambling on superficial strategies.
"I want to thank you for all your help during the summer and fall for SSAT prep. … I'm looking forward to attending P.A. in September."
– – Stephen S.
Test Prep Pricing
SSAT, PSAT, SAT I, and ACT
A package of twelve two-hour sessions: $1,295 to $1350 (payment options)
SAT Subject Tests
The number of sessions that a student needs in a particular subject varies from student to student and from subject to subject. Tutoring sessions can range from one hour to two hours. The duration and number of sessions will be arranged according to the student's needs. Rates vary according to the number of sessions, the duration of each session, and the subject, but typically range from $75 to $100 per session.
GRE, GMAT, MCAT, LSAT, TOEFL
Rates and number of sessions vary, according to the subject and individual needs. Contact us for more information. In general, a package of twelve sessions is $1,200.
* We may also charge an initial evaluation fee. Renewals are in six- or 12-week blocks. Workbooks are included for most subjects.
All fees are subject to change without notice.