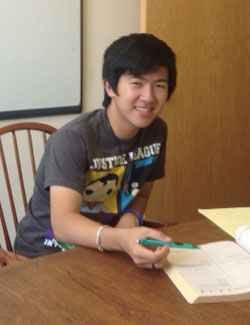 We welcome students from grade school through college, tutoring them one-on-one or in small groups. Our tutors strive to enhance each student's natural curiosity, imagination, and independent thinking by putting the student at the center of his or her educational experience.
Each program is self-paced and takes into account the student's learning style, aptitude, and potential. After an initial evaluation, the student contracts with his or her tutor to work together to achieve the student's goals within an agreed-upon time frame. Sessions are normally scheduled in 6-week or 12-week renewable blocks during the academic year, or as intensive summer tutorials.
Our tutors cover all the major academic disciplines:
English: reading comprehension, grammar, writing, and vocabulary
Mathematics: basic arithmetic, algebra, geometry, trigonometry, calculus, and statistics
Social studies and history
Science: General science, biology, chemistry and physics
Modern foreign languages: French, Spanish, Italian, German, Russian and Japanese
Classical Languages: Latin and Greek
Computer science and general computer literacy
English as a Second Language (ESL)
Other subjects by request
Enrichment
We also offer the following subjects as enrichment, in partnership with our associates:
Creative Writing
Art
Photography
Videography
Journalism
Nonfiction Writing
Public Speaking
Resume Writing
Help with application letters and essays
Speed-reading
"I was accepted Early Action to Yale and will be enrolling there undecided in the fall. When I consider the factors that led to this result, I think of the massive help you gave me in boosting my [SAT] scores to a level that I really didn't think I had in me. Your books and teaching not only raised my scores, but also helped my vocabulary and grammar, both in writing and speech."
– Greg C.
Tutoring Prices
Regular School Subjects
A package of twelve 2-hour sessions
$1,250 (payment options)
The Sciences
Biology
Physics
Chemistry
One hour to one and a half hour sessions from $50 to $85 per session, depending on the subject, the duration of the lesson, and the number of sessions for which a student enrolls.
Foreign Languages
One hour to two hour sessions: $50 per hour
English as a Second Language (ESL)
One hour sessions: $50 per hour